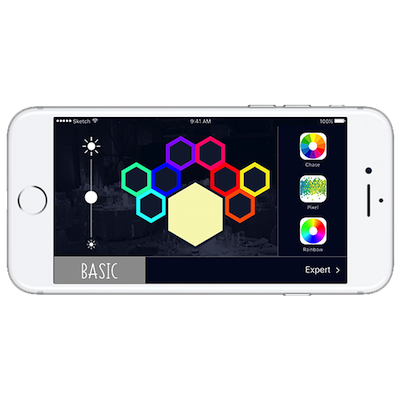 0.
Lapps
Control one or several lamps from a distance thanks to L'APPS, the connected app.
Thanks to a simple and intuitive interface, you can access a variety of colours, adjust the light intensity and chose the appropriate effects for your event.
To adapt the light to your atmosphere, chose between the Basic or the Expert mode.
Select your colour from a basic range or create your own composition with the interactive console.
L'APPS is connected to a wifi / wireless DMX transmitter allowing a simplified connexion within all your spaces.
DMX HF
2,4GHz band
512 DMX channels
Entries
- DMX in on XLR3
- « OPEN DMX » on USB
- Art-Net in (on access point)
Buffer on DMX out
Open field range 300m
DMX adressing via Menu
21 selectable frequencies
31 DMX universes
Diversity mode 2 channels
No latency, even on a flash
Norm
W2.4EC-DMX-A
IP20 IK06
Class II
Addressing
Fixed, for 32 lamps of 6 DMX channels : dimmer, strobe, red, green, blue, warm white
Concerned products
HARIZ
TECNOPAK
KUB
TOTEM (soon)
Connexions
DMX in and out on XLR 5
Open DMX on USB
Os
(Free download)
Apple IOS 10
Android 4.X
Basic Mode
General intensity
Warm white + 8 colours
3 effects (rainbow, chase, pixel)
Expert mode
Settings page with :
- 6 effects (2 Pulses, 2 Rain-
bows, Pixel, Chase)
- 5 cursors (intensity, R, G, B,
warm white)
- 10 fade 3s up/down
on Intensity, R, G, B, Warm white
Selection page from 1 to 32 lamps
Wifi hot-spot
Connexion for the application
Configurable SSID and pass- word
2,4GHz band, 20db (100mW)
14 selectable channels
Entry 1 Art-Net universe
Option upon order
Guides
and Data Sheets
---
Do not hesitate to consult / download our documentation for more information about our product